Each month when I send out tweets, I still always am baffled as to how I am doing so as it really doesn't seem possible that we've zoomed through yet another month. But here we are with July in front of us. And I have a feeling it's going to be a busy one!
Get school sorted. Charlie has SO many things going on at school in July. Picnics, trips, visits to the new school as he's going to Key Stage 2 which is in a different building plus all the end of term discos and non uniform days. It really is a full on few weeks. I am also due to have a meeting with nursery about the girls starting so it's all seeming very real that come September there's big changes afoot.
Possible book a holiday. We were lucky enough to already get away to Butlin's but I have been researched the hell out of places and really think I want to get something set in stone. I'll keep you posted where we choose!
Blog changes. If you hadn't noticed already – I have a new blog theme! It's my first ever change since going self hosted back in November 2014, but I wasn't happy with the font or colour so made some changes. I now want to develop my pages more and get it looking more jazzy but all in good time.
Reach 3k on Instagram and 6K on Twitter. I love that so many of you share stat figures with us, so I'm adding this one as I've been hovering below for ages so hopefully this will get my butt in gear.
Lose half a stone. I am only saying half because I think this is achievable in a month. I've been stuck round the three stone mark for ages so would like to make a dent on the next milestone.
Organise our London trip. We are off to the Harry Potter studios at the end of July and are hoping to zip into London the day before but need to make a plan.
Good luck with your lists and feel free to join in. You can link up your posts here. Have a good one.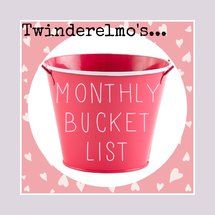 B xx