Hi guys. Here is the place to link up your monthly bucket list. If this is your first time then you can see how it all works by seeing some old Monthly Bucket List posts here.
The list can be as personal or professional, short or long, achievable or dreamy as you like! There are no zero rules or pressure here.
Each month I'll do a round up of what I can cross off my list as doing and what else I may want to add/ take off. It's a great way to bounce other ideas off everyone else – and nab ones you hadn't thought of. Sharing is caring people!
So why not join in? You'll only ever have to do 12 posts in a whole year – easy peasy. This Linky will run on the last day of every month and will be open for 7 days afterwards. As with all other linkies – add your link & copy my badge to your post and hey presto!
I will comment and RT all posts so make sure you're following me on Twitter. Grab the badge below for your posts and off you go.
Here is how I got on last month:
Enjoy our holiday.

We have been to Butlin's and the kids absolutely loved it. If you fancy reading what we thought of Butlin's here is my post.
Celebrate my girls 3rd birthday.
Sob! I now have two three year olds. We had such a lovely day in our garden with friends. The weather was red hot and they all played in the paddling pool. And despite having over 20 people in our house I wasn't stressed at all. We have awesome friends.
Get back on Slimming World.
I had a huge gain after our holiday and have had a bit of a dieting wobble, but I'm back at the 3 stone loss mark. Just one more to go until target!
Complete the Colour Run.

Yes we did this in Telford and it stayed dry – hurrah! It was so much fun, I don't think I realised just how much fun it really would be. We also got a medal and raised loads for the charity. The charity was the one who helped my Mom and we are forever grateful so it was nice to give something back. Lots of my other friends have said they want to do it next year with us so we will definitely go again.
Take my Gran out.

Yes last Friday was her 83rd birthday and we all went out for lunch. My husband had an unexpected day off so came too and it was delicious! Not very Slimming World friendly but yum anyway!
Stop trying with "friends" I am so fed up of one way friendships.
As harsh as this sounded, yes I have. And it feels good!
So there we have June. Very productive so pat on the back. Please link up your posts below, and enjoy July as school will soon be over.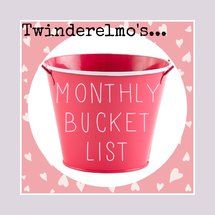 B xx
Loading InLinkz ...