Hi guys. Here is the place to link up your monthly bucket list. If this is your first time then you can see how it all works by seeing some old Monthly Bucket List posts here.
The list can be as personal or professional, short or long, achievable or dreamy as you like! There are no zero rules or pressure here.
Each month I'll do a round up of what I can cross off my list as doing and what else I may want to add/ take off. It's a great way to bounce other ideas off everyone else – and nab ones you hadn't thought of. Sharing is caring people!
So why not join in? You'll only ever have to do 12 posts in a whole year – easy peasy. This Linky will run on the last day of every month and will be open for 7 days afterwards. As with all other linkies – add your link & copy my badge to your post and hey presto!
I will comment and RT all posts so make sure you're following me on Twitter. Grab the badge below for your posts and off you go.
Here is how I got on last month:
Get my three stone award and set my final target.

DONE

. Yes I got my three stone award last Tuesday and couldn't be prouder. I'm missing weigh in this week as I'm off on holiday but I'm looking to lose about 1 more stone meaning 4 stone in total, so watch this space.
Let my hair down.

DONE

. Two hen dos and a surprise afternoon tea – it was wonderful to be with all my friends and enjoying myself. A very busy sociable May indeed.
Holiday shopping.

DONE

. Yes we got the kids a few next clothes as it's a tradition to buy new stuff for our holidays!
Sort the girls birthday.

DONE

. It's very dependant on the weather but hopefully are having a BBQ with friends.
Blog more!

DONE

. I am also now focusing on my Instagram and Pinterest after lots of great tips at BlogCamp where I also got to meet the lovely linker upper Jenni from Odd Socks and Lollipops!
YES May – absolutely smashed it. Hope you all did too. Link up below and how on earth are we halfway through 2016?! EEEK scary.
B xx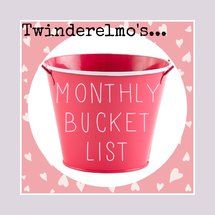 Loading InLinkz ...