I've loved reading Becky's The Week That Was series; it's always nice to have a weekly record of what you've done so when she asked me if I'd like to co-host a new linky I was more than happy to!
The linky will start next Monday (11th January 2016) and then will run each following Monday throughout the year. So why not join in? You could write your post on the graveyard shift on a Sunday when it's nice to look back and see what you've done this week (big or small!)
The posts will fall into three categories and it's up to you want you want to share and record.
The Week That Was…At Home. 
Did you have an action packed week of play dates, games, treats and fun? Or just simply conquered that ever mounting laundry basket? Whatever you have done then shout about it (good or bad!)
The Week That Was…On the Blog.
Have you bared your soul in a very honest post, gained 10 new followers or had a super exciting opportunity? Maybe you've read an awesome post that's inspired you or just made you wet yourself laughing; share it here.
The Week…Ahead.
Anything exciting in the diary? Perhaps a rare night out planned oe more than likely a date at soft play hell. Maybe you (like me) are making some big life changes and are nervous but excited. Whatever it is we can't wait to have a nose!
Hope to see you guys linking up and making The Week That Was a real fun community. Make sure to tweet your post with #theweekthatwaslinky and copy Becky's Twitter @3Princess_1Dude and mine @Cinderelmo so we can RT your posts and share the love. You can grab the badge below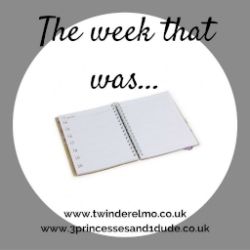 Thanks guys. See you Monday!
B xx