Hello and welcome to mine and Becky from 3 Princess and 1 Dude's brand new linky. If you haven't heard about it, you can find all the details on my introduction post here.
I'm so excited for this new linky and hope you are too. So what have I been up to?
The Week That Was…At Home.
We were back to school on Wednesday and it has been a massive struggle I'm not going to lie. The girls developed (typically very late in the holidays) a penchant for sleeping in so it's been tough getting up before 7.30am and when you need to leave at 8.30am it can be a bit close to the wire. But we have made it and are counting down the days until half term as the weather has dropped freezing!
It's been a massive week of lifestyle changes for me too. On Tuesday, I joined Slimming World. I've only ever done it online before so it was a massive step but wasn't as traumatic as I expected and I'm really keen to see if I've lost anything tomorrow. I also re-joined the GYM. Yes I haven't been since the week before I got married, which was September 2012! It's safe to say the day after was a bit achy but I feel better for taking the first few steps in getting my weight back in order.
I am thrilled Celebrity Big Brother is back. Yes I'm that much of a geek but I love watching it although it's been a bit dull and I genuinely have no idea who quite a few are this idea – am I getting old?!
The Week That Was…On the Blog.
I was really chuffed that my 'Why is January so crap' post was featured on the front page of Mumsnet. I got loads of lovely tweets and messages saying that people loved it so that was really really nice. I've had a super exciting opp for May that was made even better that I got to share with two blogging buddies. I see so many people be so ruthless but I love where I can to share opportunities with friends. It looks super exciting and I'll be writing about it this week.
I also did my first home and interiors post of the year. This is definitely the direction I'm looking to go down this year so it was nice to get on the board.
The Week…Ahead.
I'm really excited to see how much (if anything) that I've lost on my first week back at Slimming World. It's my sisters birthday next weekend and we are off out for Sunday lunch – so I think Slimming World may be put on hold for that afternoon. My Gran is coming over to stay as my Dad's away next week so it'll be lovely to have her close by for a week so I'm sure we will be popping in to see her a lot.
I've been sent a gorgeous new coat to review so I will be putting it through it's paces next week especially now the weather has dropped freezing.
Charlie starts back at football on Monday too and is so excited to try out his new boots he had for Christmas. They are the ones Joe Hart wears apparently and this makes them awesome!
So what about you guys? Fancy joining in? Then link up below. We are open until Wednesday Make sure to tweet your post with #theweekthatwaslinky and copy Becky's Twitter @3Princess_1Dude and mine @Cinderelmo so we can RT your posts and share the love. You can grab the badge for your posts too.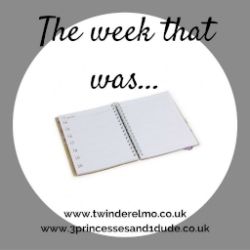 Have a great week all.
B xx