We have made it! The year is very very shortly coming to a close. I hope you all had a wonderful Christmas and have something fun planned for tonight. I just want to say an absolutely MASSIVE thank you to all you folk who link up every single time. It's so lovely to have made some awesome pals through your dedication. It may not be the biggest linky going but when I log on and comment, to see the love that goes before me and how you all have got to know each other and support each other – it's so lovely. It really wouldn't be worthwhile if it wasn't for you lovely people – so thank you. Really huge THANK YOU!
So how was my December list?
Organise Christmas Day food. – DONE/ My Dad and I wernt shopping early on Christmas Eve Eve. We first did this when the girls were 6 months old and I was up at solly o'clock anyway and it seems to have stuck. We had 13 round on Christmas Day and it went without a glitch.
Make New Years Eve plans – DONE. My sister & her boyfriend are coming round. We will let Charlie stay up as long as he can manage but he usually flags around 9. Quiet but perfect for me.
Buy and write all my Christmas cards – DONE. Yes got them all out and with time to spare.
Really crack on with my fitness plan – I have been using my Polar Loop 2 but am looking forward to starting C25K again soon.
Book the pantomime. DONE. We were so kindly invited along to press night of Dick Whittington in Shrewsbury and it was the best one we have ever seen. Just hilarious.
RELAX! – DONE. I have had a complete blogging break and not been so active on social media and just had lots of lie ins (if you can call kids awake at 6 but lounging in bed one) It's just been so lovely to not rush around for school runs and we haven't had any big planned days out. Total chill and my husband has been off so it's been ace!
I thought you may all want to read how I got on with my 2015 annual bucket list, so I've linked that along with a new one for 2016 instead of a monthly one for January. Have a great evening all and a huge Happy New Year.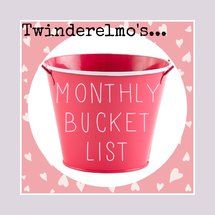 Loading InLinkz ...
B xx