As you know – I've been, well, RUBBISH! Embarrassingly rubbish the past two months if I'm honest. September we had just moved house and was in the land of no wifi and last month I completed forgot. So massive massive apologies!
Absolute respect to those lovely folks who did their lists regardless – you are true hardcore list lovers!
And on to my list for December. It's going to be a pretty awesome month as Charlie turns 7 on the 10th. We are going for a big family meal on his actual birthday then taking a couple of his friends bowling. Plus the pretty obvious CHRISTMAS AND NEW YEAR!
Organise Christmas Day food. For the first time we are cooking for the family at our house. In years gone by it was always at my parents but it feels too weird to do it now so we are taking over at the helm. I need to crack on and sort it all

Make New Years Eve plans

. Let face it, with kids you can't really do much but in all honesty? That's fine! NYE always seems like such an anti-climax and I've never been a fan but we always do something,. even if it's just having a few family members round.

Buy and write all my Christmas cards

. I have been so sorted with my presents but the cards have gone by the wayside. Must get my butt in gear

Really crack on with my fitness plan.

I have been really lucky that I've been sent a fitness band to review over the coming months and I have got to admit it's really making me evaluate. I don't want to fall into the whole 'new year new me' malarkey but I do want to start really looking at my general health and fitness. I'll be reviewing it over the coming months so keep your eyes peeled!

Book the pantomime.

We absolutely love going and have done for the past few years. I still think the girls are a bit too young but it's the highlight of the year for Charlie as he gets a flashing sword!
RELAX! It's been a busy old year and I can't quite believe 2015 is coming to a close. I am looking forward to no school runs and just spending time with my nearest and dearest.
So what is on your festive lists? You can link up your posts here. See you at the end of December for our 2015 wrap up. Thanks so much for all being so loyal – it's really overwhelming seeing how devoted you guys are. You are blimmin ace!
B xx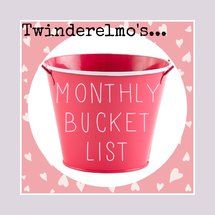 Grab the linky badge