Meet up with some lovely blogger buddies. DONE. I met up with Kat from Beau Twins and also saw Sarah at Taming Twins at Em Brummy Mummy of 2 picnic meet up. I had planned to meet with 2 other bloggers but 1 we forgot and the other has been rescheduled.
Take the girls swimming. OOOOPS
Visit the local Gruffalo trail. DONE

but it was a little bit rubbish as there was no actual Gruffalo at the end. But we picked lots of blackberries on the walk and had a lovely time in the woods with Grandad.
Hopefully get a moving date. DONE. Next Friday – eeeeek!
Start packing up the house. STARTED. Only a little bit but I didn't want to tempt fate before we get the keys, weird I know!
Have a big family BBQ. DONE. It wasn't all that big but my sister, brother in law and Dad came round and we had glorious sunshine and Charlie & my sister watched the Chelsea football match together so everyone loved it!
You know the drill by now – link up your posts and try to comment on as many as possible and share the live. I usually mess up the blog code badge so shout if it's not working!
Have a wonderful September all
B x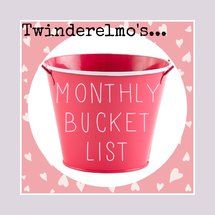 Bx
Loading InLinkz ...